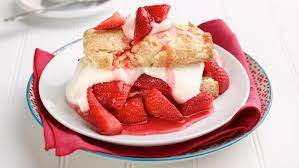 Strawberry Festival
Saturday, June 25 from 1-3 pm. 
Pie Ingredient Pick Up and
Set Up Schedule
Berry and pie plate pickup for pies will be Thursday, June 23 from 10:30-11:30am and then again from 4-5pm.    
Anyone who cannot make these times, please call me at 776-3419 so that we can make connections.     Saturday: set up starts at 10:00 am.
Workers should be there no later than 12:30pm so we can be ready for Festival to start at 1:00.          
Thank you for all of the cooperation and help, Leah Davis
Pie Recipes
Thank you for baking a pie or pies for the Strawberry Festival. We are including recipes for your use or you may have a favorite of your own. We would appreciate two-crust or lattice-top baked pies. Please, no refrigerated pies. Label the pie box (S) for strawberry or (SR) for Strawberry Rhubarb.

Strawberry Pie
Bake at 350, 1 hr. until golden brown
1 quart strawberries
Mix together and sprinkle over fruit:
3/4 sup sugar
4 Tbs. flour
Pastry for a 2-crust pie

Strawberry Rhubarb Pie
Bake at 350, 1 hr. until golden brown
2 cups strawberries
2 cups rhubarb
Mix together and sprinkle over fruit:
1 1/3 cups sugar
1/3 cup flour
Butter top of mixture
Pastry for a 2-crust pie
To my friends at NYCC:
I am so very grateful for my years at NYCC.  It's truly been my privilege to have worked with such wonderful musicians like Peter, Jesse, David and each choir member. I also feel so fortunate to have been here during Pastor Nancy's ministry.  She has blessed my life in so many ways and she will be missed.
Thanks to Lyn for always making sure I had a bulletin in advance and for your ability and patience in recording music for the virtual services.  Thank you for the lovely gifts, flowers and cards last Sunday.
Thank you David for the beautiful and delicious cake as well as all the wonderful music opportunities.  What a privilege to accompany you in solo or duet with Jesse!
Thank you choir for my "Treble Maker" mug  and the generous contents and all the fun we've had during rehearsals.  Keep singing and having fun while you sing under the excellent leadership of David.
Thank you for the gifts of kindness, love, acceptance and encouragement.
I could go on and on but words don't really express my gratitude. 
Please know that I am truly grateful for my time there.
Love, peace and blessings to you all. Linda
Masks Optional
Masks are now optional in the church building, however the Maine CDC has recommended wearing them for the time being indoors as the Covid infection rate has increased significantly in recent weeks. Please use your own judgement regarding wearing one.  We will continue to adhere to social distancing in the sanctuary and in Fellowship Hall.
Join us for Worship! 
We are now worshiping in person in the Fellowship Hall on Sundays at 9:30 am.  For those who wish to join us online please connect with us on YouTube at youtube.com/c/nyccucc.  If you would like to see the Sunday Bulletin that can be found on our website at http://nyccucc.com.  If you wish to make an offering it can be made online through Tithely at https://tithe.ly/give?c=1301940
Continuing Meetings and Events

Tuesday Gals on Tuesdays at 10:00 am in person in Fellowship Hall

Men's Club meets on the third Saturday of the month at 7:30 am at Toddy Brook

Pet Place Pantry is open on the second Saturday of each month from 9:00-10:00 am.
Pastoral Care Requests
For prayer requests, pastoral care or if you or someone you know is struggling in our community please contact Pastor Nancy at nyccrevnancy@gmail.com
Please keep the following people
in your prayers ~
Marion Goff  
Sandra Golonka 
Vince Golonka
Dot Hayward Blanche Mays
Cindy & Bill Tompson 
Community Food Pantry Donations. 
The first Sunday of the month has been designated as Food Pantry Collection Sunday.  We will be focusing on non food items.  Current pantry needs include:
 
Paper towels                     Laundry Detergent
Toilet Paper                       Dish Soap
Tissues                              Diapers
Deodorant                         Pull-ups
Shampoo                           Baby Wipes
Conditioner                        Feminine Hygiene Products

Please add your donation to the grocery cart in the Gathering Space. You can donate to the cart at any time.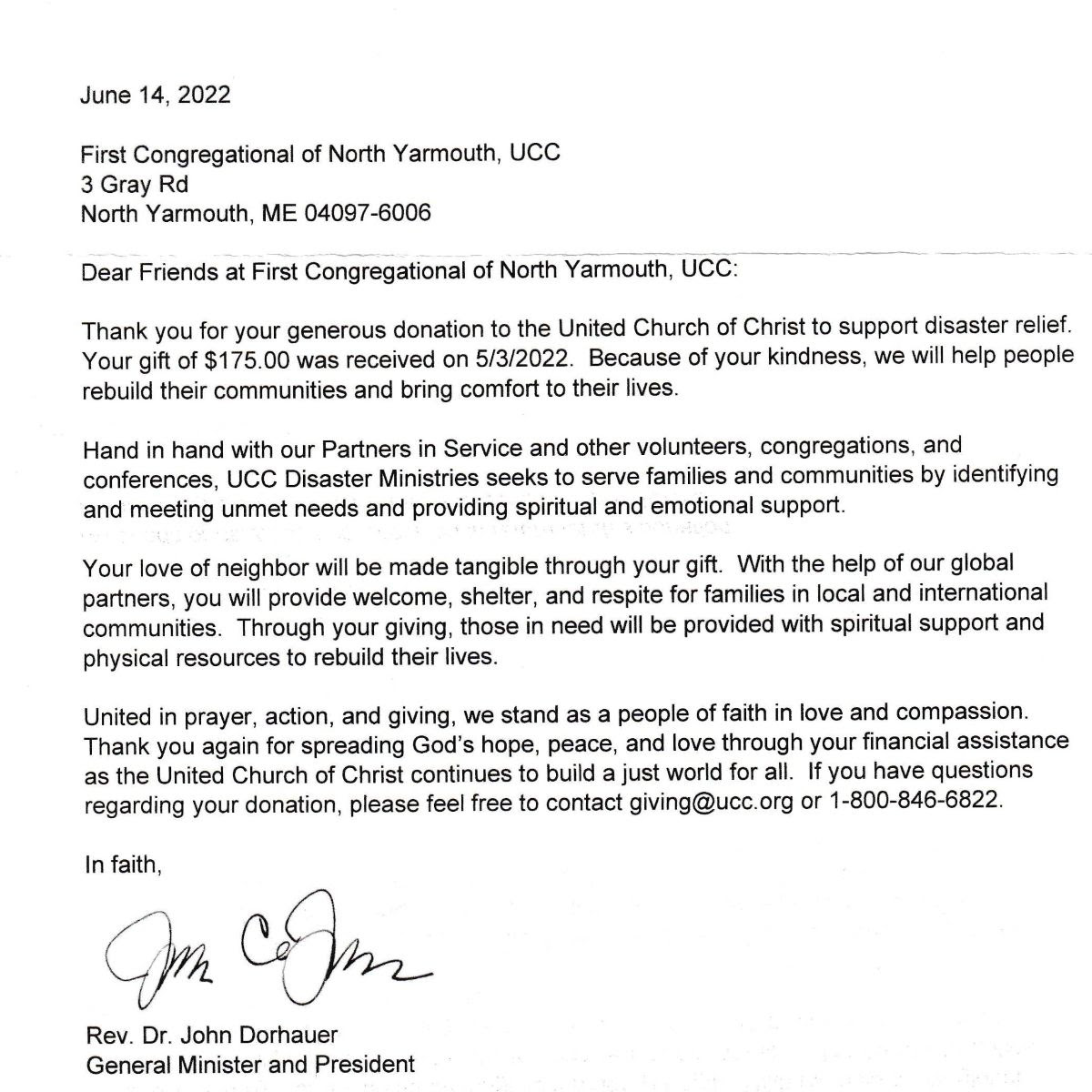 Our Church at Work A thank you note from the United Church of Christ At this time NYCC has donated $965 to aid Ukraine.
Access worship directly on our YouTube channel (subscribe to our channel while you are there) at youtube.com/c/nyccucc