Join us for Worship! 
We are worshiping in person on Sundays at 9:30 am.  For those who wish to join us online please connect with us on YouTube at youtube.com/c/nyccucc.  If you would like to see the Sunday Bulletin that can be found on our website at http://nyccucc.com.  If you wish to make an offering it can be made online through Tithely at https://tithe.ly/give?c=1301940.  You can also give by text: Text "Give" to 883-751-0314.

Council Meeting
This is a reminder that the Council will meet on Thursday, November 16 at 6:30 pm in person at the church.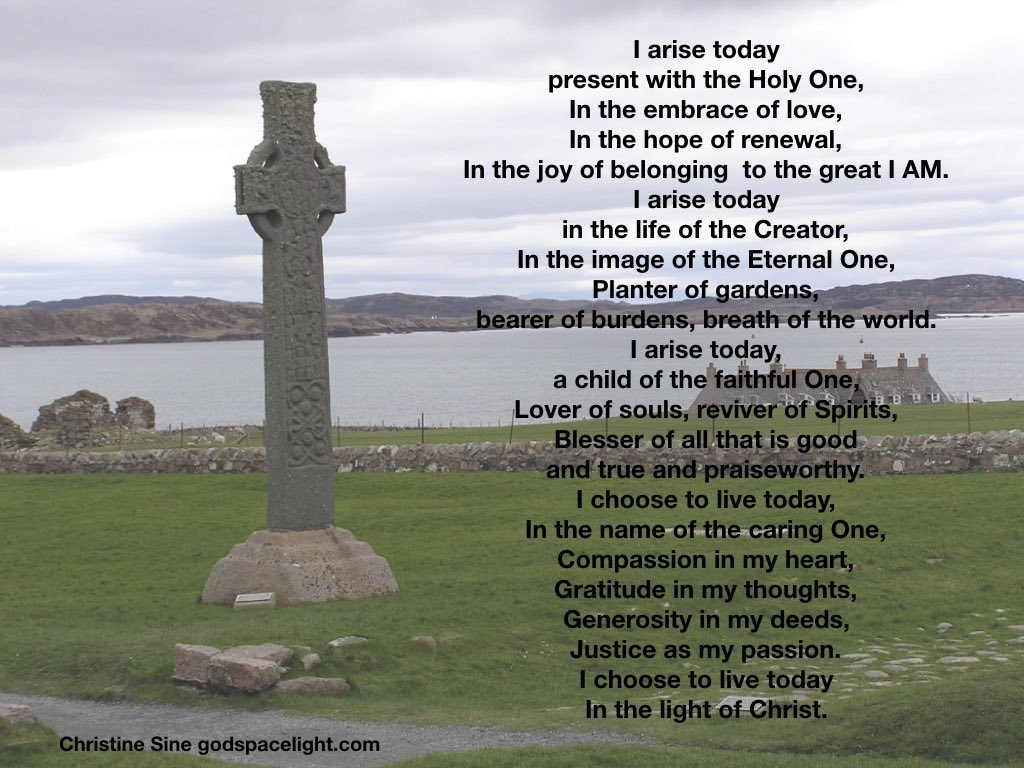 Celtic Advent 
Christmas displays started popping up in many stores as early as September, becoming ubiquitous the day after Halloween. Christmas music blasts over loudspeakers and radios. Many of us say or think, "Please. Let us get through Thanksgiving first."
 
Black Friday to Christmas Eve day is too often a frenzy of holiday shopping, baking, parties & other activities. Then, on Dec. 26 all the Christmas music & holiday cheer comes to an abrupt halt. The focus turns to New Year's and beyond.
 
Many people have forgotten that the 12 Days of Christmas begins on Dec. 25th. And the season of Advent — a time of spiritual preparation for Christmas — is ignored.
 
For most Christians Advent begins on the 4th Sunday before Christmas — that's Nov. 27th this year. And that is what we will observe in our worship services. But in the Celtic spiritual tradition Advent begins on Nov. 15th, with a full 40-day countdown to Christmas (a parallel to the 40 days of Lent preceding Easter.)
 
Either way, Advent is a period of waiting, of anticipation. It is not a passive waiting, however; it is a time to step back from the frenzy of the commercial secular season. A time to breathe in the wonder of creation and incarnation; a time for soul-searching and prayer.
 
Grace & peace,
 
Pastor Paul
 
P.S. If you have access to Facebook I heartily recommend the FB page "Wandering Wisemen" — esp. for families. It is a delightful and whimsical countdown of the days from the beginning of Advent through Christmastide to Epiphany (Jan. 6th) — a full 42 days this year.

Thank you!
Thank you to all who helped on the cleanup day last Friday!  Having no school allowed for extra help!  Trustees

Annual Reports
To all Chairs of Boards and Committees.  It is time to write your reports for the Annual Report.  The deadline for reports is Friday, December 9 and we have only 1 so far.  Please send your reports to Lyn in the office at nyarmouthccucc@gmail.com.
Jeanne Chadbourne, Church Clerk

Invitation to Join the Choir
The NYCC Choir cordially invites you to be a Choir Tryer for the Christmas Season. We practice Wednesdays at 6:30 and on Sundays at 8:30 before our service. We promise that you will have a lot of fun and make some beautiful music! 


NYCC COVID-19 GUIDELINES 10/20/22
We have been following CDC guidelines at NYCC

Generally, each person should have up-to-date vaccines and boosters, use masks when in large crowds, and practice social distancing.

Masks are optional at NYCC but if you are not feeling well, we would appreciate your staying home, in particular for a Sunday worship service as the service can be seen on YouTube.

If you do test positive for Covid-19 and you have minor symptoms, then you should isolate for 5 full days (day of symptoms is day 0, isolate for 5 full days thereafter) on day 6 take two antigen tests in a row spaced 48 hours apart and if they are both negative you can remove your mask.

If you have a moderate case or severe case (needing to be hospitalized) please refer to the Maine CDC guidelines general information relating to Covid-19.

Community Food Pantry Donations. The first Sunday of the month has been designated as Food Pantry Collection Sunday.   We will be focusing on non food items.  Current pantry needs include:
 
Paper towels                     Laundry Detergent
Toilet Paper                       Dish Soap
Tissues                              Diapers
Deodorant                         Pull-ups
Shampoo                           Baby Wipes
Conditioner                        Feminine Hygiene Products

Please add your donation to the grocery cart in the Gathering Space. You can donate to the cart at any time.  Thank you very much for your ongoing support for the Cumberland Community Food Pantry which supports North Yarmouth families.Hurricanes 2022

Coffee Hour We have gone back to our traditional coffee hour with homemade baked goods, fruit, cheese and crackers, etc.  We still have prepackaged goodies as well.

We are very interested in getting a schedule in place which will rotate so that not one person is doing coffee hour every week.  We have a signup sheet at church in the gathering space, so please check it out and consider doing the set up and clean up and goodies, or share it with one person setting up, one person cleaning up, and a couple of people baking or bringing other goodies. Thanks all! Marsha Heath

A Note from the Nominating Committee
Friends, it is time to tap your energy by joining one of our church committees. We have several openings and we would welcome your help. (Trustees, Diaconate, Faith Formation, Missions, Nominating Committee, Flower Committee). Please let me know if you are interested. My email is apgraham1@gmail.com or just catch me at church.
Thank you, Annie Graham, NYCC Vice Moderator

News from Women's Fellowship/Tuesday GalsFair Helpers Wanted!
Our fair will be held on Saturday, November 19, from 9:00-2:00 pm.  We are in need of some folks who can help by relieving workers periodically at the tables and filling in where needed at other tasks.  You will not have to stay the whole time—if you can give an hour or so, that's works for us.  Please let Gail (gail.strattard@maine.rr.com or 450-1612) or Kathy (kwhit119@yahoo.com or 254-7509) or speak to us at church.


Santa's Workshop Fair Cookie Walk
The Santa's Workshop Fair is fast approaching on November 19th, and now is the perfect time to break out your favorite recipes and begin baking up a storm to delight our patrons for our Carol's Cookie Walk and Baked Goods tables.  Decorated sugar cookies are always a big hit but even the simplest chocolate chip cookie is welcomed, along with seasonal breads and pies, yummy brownies and bars, and delicious jams and jellies.  These items can be dropped off  the day before or early morning at the start of the fair.  If pickup is needed, please call Sue at 831-9014 to arrange a time.  Happy baking!

Silent Auction for the Christmas Fair

The 2022 Santa's Workshop is coming together. We are adding the silent auction back into the fair this year and we need your help! We're pulling a silent auction together with a small number of gifts.  We'd like a few more!!  Do you have a place in the mountains to offer for skiers?  You can decide the number of days being offered and when the place will be available.  This could be limited to church family if you'd like.  What about a summer cottage for those who like to sit in the sunshine?  Again, you can decide what dates and can limit it to church family. Perhaps you've canned fruit and veggies.  Sew, knit, paint a scene?  Or will cook/bake a meal. You choose the menu to be listed on the bid sheet.  Are you a photographer and will take pictures of the winners' choosing?   You get to choose the date available.  What about lawn mowing, clearing out the garden next spring?  Gift Certificates are always popular!          If you'd like to discuss this, I need you to email me or call.  I'm here and there and hardly know when I'll be home.  So after 9am to 7:30pm call 233-8914.    2sons@maine.rr.com.   Thank you!

Continuing Meetings

November 17  – Council at 6:30 pm – In Person

Choir Rehearsal – Wednesday Nights at 6:30 pm and Sunday Morning at 8:30 am in the Sanctuary

Tuesday Gals meets on Tuesdays at 10:00 am in Fellowship Hall. 

Men's Club meets on the third Saturday of the month at 7:30 am at Toddy Brook

Pet Place Pantry is open on the second Saturday of each month from 9:00-10:00 am.


Please keep the following people
in your prayers ~Sandra Golonka 
Vince Golonka
Dot Hayward Blanche Mays
Bill Tompson

Access worship directly on our YouTube channel (subscribe to our channel while you are there) at youtube.com/c/