Join us for Worship! 
We are worshiping in person on Sundays at 9:30 am.  For those who wish to join us online please connect with us on YouTube at youtube.com/c/nyccucc.  If you would like to see the Sunday Bulletin that can be found on our website at http://nyccucc.com.  If you wish to make an offering it can be made online through Tithely at https://tithe.ly/give?c=1301940

Masks Optional
Masks are now optional in the church building as transmission rates in Cumberland County have decreased. Please use your own judgement regarding wearing one.  We will continue to adhere to social distancing in the sanctuary and in Fellowship Hall.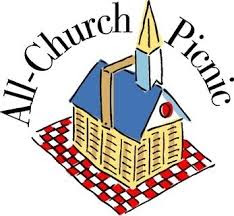 Welcome back to church! We are celebrating our Sanctuary Worship and return of the choir with a picnic right after church this Sunday, October 2nd. We will be having pulled pork for sandwiches and asking that everyone bring a salad, casserole or dessert to share.

If you have been feeling cooped up, here is your chance to break bread with your church family and and rekindle that feeling of togetherness! Marsha Heath Moderator

Pastor's Note
Coming Home                                                                            Rev. Dr. Paul A. Day
Earlier this month my high school Class of 1970 held its 50th Reunion (postponed from 2020 due to Covid-19). I was not able to attend but saw lots of pictures posted by former classmates. As I scanned them all I could think was, "Who ARE all these OLD people?!?!" I couldn't recognize a soul! In my defense, it was a class of over 500, and I've kept in touch with only a couple of them.
I was reminded of the adage from the title of Thomas Wolfe's novel You Can't Go Home Again. Indeed, my hometown has changed so much since I left almost 50 years ago. And, of course, I've changed, too.
Next October my college graduating class will have its 50th Reunion at the annual Homecoming weekend. I will probably attend. It was a much smaller class and I have kept in touch with quite a few of my college chums. I know it will feel strange to be in a room with so many OLD people. But I also know that I will feel welcome. For, as Robert Frost said, "Home is the place where, when you have to go there, they have to take you in."
This Sunday, October 2, is Homecoming Sunday at North Yarmouth Congregational Church. It is not just for church members and friends, or alumni (former members) of the congregation. We extend a warm welcome to all! The Psalmist proclaimed:
The Joy of Worship in the Temple
1 How lovely is your dwelling place,
    O Lord of hosts!
2 My soul longs, indeed it faints,
    for the courts of the Lord;
my heart and my flesh sing for joy
    to the living God.
3 Even the sparrow finds a home
    and the swallow a nest for herself,
    where she may lay her young,
at your altars, O Lord of hosts,
    my King and my God.
4 Happy are those who live in your house,
    ever singing your praise.                                                Selah
       Psalm 84:1-4 (New Revised Standard Version)
We will begin at 9:30 a.m. with worship in the sanctuary. We will celebrate World Communion Sunday, recognizing our unity with our brothers and sisters in Christ around the world.  We have been following the Narrative Lectionary, which looks at the story of God and God's people throughout the Bible. This week we will see the roots of Communion in God's rescue of the Israelites celebrated in the Passover meal. Eugene Peterson translates the title "Lord of hosts" as "God-of-the-Angel-Armies." (The Message) The image is a strong reminder of God's might in freeing God's people from slavery in Egypt. In Christ God sets us free from sin and all that would oppress us. All who trust in God and God's love as revealed in Jesus are welcome at the Lord's Table.
In the early church, communion was often part of a larger meal – a "Love Feast." In the same way, following worship we will have a Church Picnic. We will have pulled pork sandwiches. Bring a salad, casserole or dessert to share, if you are able. And bring family, friends, and neighbors to share our fellowship. May all find a warm welcome in this church-home, and wherever we may be, may we always find ourselves "at home" with God.
1-2 What a beautiful home, God-of-the-Angel-Armies!
    I've always longed to live in a place like this,
Always dreamed of a room in your house,
    where I could sing for joy to God-alive!
3-4 Birds find nooks and crannies in your house,
    sparrows and swallows make nests there.
They lay their eggs and raise their young,
    singing their songs in the place where we worship.
God-of-the-Angel-Armies! King! God!
    How blessed they are to live and sing there!
5-7 And how blessed all those in whom you live,
    whose lives become roads you travel;
They wind through lonesome valleys, come upon brooks,
    discover cool springs and pools brimming with rain!
God-traveled, these roads curve up the mountain, and
    at the last turn—Zion! God in full view!
8-9 God-of-the-Angel-Armies, listen:
    O God of Jacob, open your ears—I'm praying!
Look at our shields, glistening in the sun,
    our faces, shining with your gracious anointing.
10-12 One day spent in your house, this beautiful place of worship,
    beats thousands spent on Greek island beaches.
I'd rather scrub floors in the house of my God
    than be honored as a guest in the palace of sin.
All sunshine and sovereign is God,
    generous in gifts and glory.
He doesn't scrimp with his traveling companions.
    It's smooth sailing all the way with God-of-the-Angel-Armies.
       Psalm 84 (The Message)

"No matter who you are, or where you are on life's journey, you are welcome here."
         United Church of Christ

Grace & peace,
Pastor Paul

Community Food Pantry Donations. This Sunday is the first Sunday of the month. 
It has been designated as Food Pantry Collection Sunday.  We will be focusing on non food items.  Current pantry needs include:
 
Paper towels                     Laundry Detergent
Toilet Paper                       Dish Soap
Tissues                              Diapers
Deodorant                         Pull-ups
Shampoo                           Baby Wipes
Conditioner                        Feminine Hygiene Products

Please add your donation to the grocery cart in the Gathering Space. You can donate to the cart at any time.

Neighbors in Need Special Offering 
In 2022, the Neighbors in Need "BEHOLD!" offering focuses on an economic justice. With inflation impacting all of our households, we wanted to provide a way to discuss this through a faith lens. Join us by promoting this year's NIN "Behold!" campaign at your church. As you may recall, one-third of the offering supports Council for American Indian Ministry (CAIM). Two-thirds are used by Justice and Witness Ministries to provide grants to UCC churches and organizations as well as supporting a variety of justice initiatives, advocacy efforts, and direct service projects. We will collect this offering on October 2.Stewardship Committee for 2023
 Lois and Jeanne are looking for a few volunteers to join the

Stewardship committee for 2023
 
This is a very short term commitment in the next month or two to come together to plan a Stewardship letter, working on the mailings, etc. 
 
If you would like to assist, contact Lois Knight either by phone (829-6164) or e-mail – Lknight52

@

nyccucc

 SEPTEMBER'S  NYCC STREET MINISTRY We tried something new and it worked really, really well! Because several folks gave us a cash donation, or bought 50 bag of chips, we were able to build 24 lunches, (we were doing 12) to take to Portland on Mon. Sept. 26th. But the good news is that we asked folks to help after church on Sunday to make sandwiches, and fix up the bags of grapes and you did! In no time we had lunches ready to go. Thank you so much for being a part of this outreach NYCC does each month. We wish you could experience the most rewarding part and that is the extreme gratitude with which the lunches are received. The thank you's or the blessings we receive are amazing and very heartfelt.  C/J

Stay tuned for when clothing, or other necessities, etc.  may become a part of our mission. Other folks taking the lead on this would be wonderful.  

CLUTTERED KITCHEN
We have a situation at NYCC that we should try to correct. Everyone has a "junk" drawer in their house. Right? Well our church apparently has an entire "junk room", and unfortunately it is the kitchen. The kitchen isn't used nearly as much today as it was pre-pandemic when, because it was so busy it tended to be kept in decent order. Today, however, the corners, the dishwasher, the counters, the shelves….you get my drift……are on overload with "junk". Or if it isn't junk, it belongs someplace else. In short, please help this situation by washing and putting away anything you use, clean the counters, but most of all don't just leave it for someone else to put away or find the place it belongs (Yes, you can put damp dishes and silverware where they belong).

News from Women's Fellowship/Tuesday Gals
The Women's Fellowship/Tuesday Gals will hold the Christmas fair on Saturday, November 19th, following any CDC guidelines in effect at that time.We will need workers – Are folks thinking about how they can contribute to Santa's workshop?  Before, during and after?  We need crafts, baked goods, candy, cookies; plants.  Help setting up on fair day, day of fair work, giving workers breaks during and help cleaning up.  There will be an in-person meeting on Saturday, October 16th at 10:00 am for those who can help.  If you cannot come or don't want to meet in person at this time, please let Kathy(254-7509, kwhit119@yahoo.com or Gail (207-450-1612, gail.strattard@maine.rr.com) know. We hope you will help us make this fair a success.  Proceeds from the fair go to Women's Fellowship and are used for church and benevolence purposes. Are folks thinking about how they can contribute to Santa's workshop?  Before, during and after?  We need crafts, baked goods, candy, cookies; plants.. help setting up, giving workers breaks during and help cleaning up.

Jewelry Request for the Christmas Fair
Are you sure of what's in your jewelry box or drawer?  Got some items to go with a particular outfit and that's no longer in your closet?  Tuesday Gals would adore having the items for our guests at the Santa's Workshop fair.  What about lapel pins, rings, tie tacks, chains for men?  Please bring your items to Lyn in the church office.  Or stop in and chat with Tuesday Gals; we are in the Fellowship Hall starting at 10:00 am. Of course, we'd enjoy seeing you and maybe you'd like a cup of coffee.  Think of the jewelry as getting a new life!!Church Building Re-KeyedThe re-keying project has been completed.  All doors except the pastor's door and the daycare door have been re-keyed.  All Committee Chairs have been issued a new key.  If you have not picked yours up yet, it will be in your mailbox at the church.  The office is open Monday-Thursday from 7:30-12:00 noon to pick up your key or get lock box instructions.  If you will be using the new lockbox that is now installed.  You can contact Lyn for Instructions at 829-3644 or 615-1650 if it is not during office hours.The "key" to this project is to get a list of names of all of those who now have a new key, and a list of names of those who have the combination to the lockbox.  If you have any questions or concerns please let the office know at 829-3644 or nyarmouthccucc@gmail.com

Continuing Meetings 

October 4 – Diaconate at 6:30 pm – Via Zoom
https://us02web.zoom.us/j/89733746228?pwd=WW5OeGJLUXE1MnZpMkM4TlpkaGNLUT09

October 10 – Faith Formation Meeting following worship.

October 11 – Trustees at 6:00 pm –  In person

October 17  – Missions at 7:00 pm – Via Zoom
The link will be sent to members of the Missions Committee one week prior to the meeting

October 20  – Council at 6:30 pm – In Person

Choir Rehearsal – Wednesday Nights at 6:30 pm and Sunday Morning at 8:30 am in the Sanctuary

Tuesday Gals meets on Tuesdays at 10:00 am in Fellowship Hall.

Men's Club meets on the third Saturday of the month at 7:30 am at Toddy Brook

Pet Place Pantry is open on the second Saturday of each month from 9:00-10:00 am.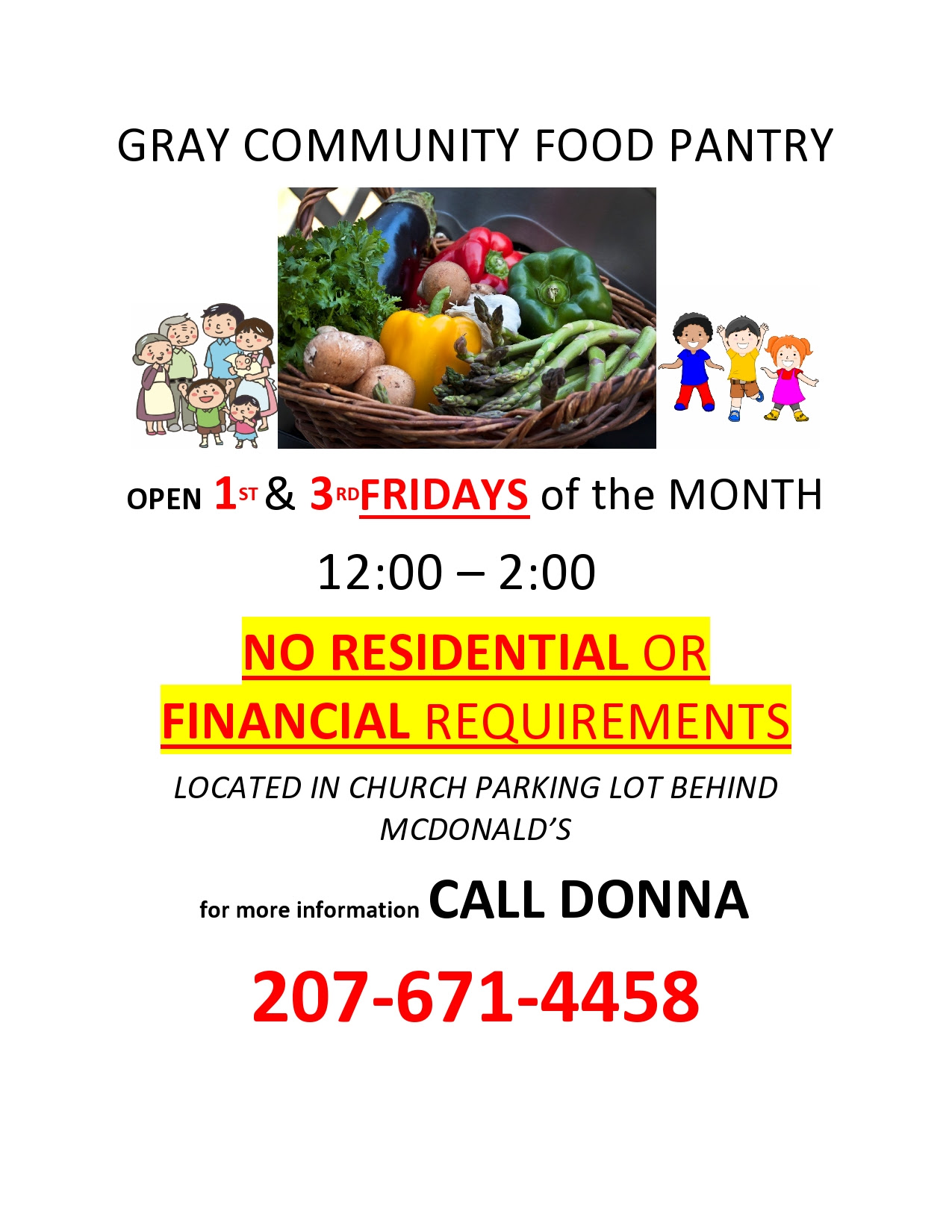 If you have any questions contact Annie Graham at 207-712-8253

Please keep the following people
in your prayers ~
Marion Goff  
Sandra Golonka 
Vince Golonka
Dot Hayward Blanche Mays
Kris Perkins and Cathy Bunton

Access worship directly on our YouTube channel (subscribe to our channel while you are there) at youtube.com/c/nyccucc