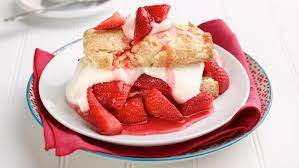 Strawberry Festival
Saturday, June 25 from 1-3 pm. 
Mark your calendars!
Help Needed for the festival.
~Bussing tables, replenishing tables, or other tasks that arise.
~Set up and break down of festival
on Saturday morning 10 am, 
and Saturday afternoon after 3pm.

~EZ Up canopies are needed also. If you can help with any of the above, please let Leah Davis know at 829-6266
Pie Recipes
Thank you for baking a pie or pies for the Strawberry Festival. We are including recipes for your use or you may have a favorite of your own. We would appreciate two-crust or lattice-top baked pies. Please, no refrigerated pies. Label the pie box (S) for strawberry or (SR) for Strawberry Rhubarb.

Strawberry Pie
Bake at 350, 1 hr. until golden brown
1 quart strawberries
Mix together and sprinkle over fruit:
3/4 sup sugar
4 Tbs. flour
Pastry for a 2-crust pie

Strawberry Rhubarb Pie
Bake at 350, 1 hr. until golden brown
2 cups strawberries
2 cups rhubarb
Mix together and sprinkle over fruit:
1/13 cups sugar
1/3 cup flour
Butter top of mixture
Pastry for a 2-crust pie
Masks Optional
Masks are now optional in the church building, however the Maine CDC has recommended wearing them for the time being indoors as the Covid infection rate has increased significantly in recent weeks. Please use your own judgement regarding wearing one.  We will continue to adhere to social distancing in the sanctuary and in Fellowship Hall.
Join us for Worship! 
We are now worshiping in person on Sundays at 9:30 am.  For those who wish to join us online please connect with us on YouTube at youtube.com/c/nyccucc.  If you would like to see the Sunday Bulletin that can be found on our website at http://nyccucc.com.  If you wish to make an offering it can be made online through Tithely at https://tithe.ly/give?c=1301940
This is a THREE SHOUT-OUTS OF THANKS
A huge thank- you to George B. for his care of the lawns at NYCC. He mows a lawn that would be a challenge to anyone and makes it look so nice, he weed whacks, and trims the shrubs and bushes, which results in a very attractive setting for our church. AND he mowed the other side of the road when we needed extra parking space for a service a couple of weeks ago.

George's effort is complimented big time by Lois and her work in and on the gardens. It may be my imagination (isn't every spring more beautiful than the last?) but they have looked so gorgeous this year. The flowering shrubs exploded with beautiful blooms, the weeds disappeared from the gardens….it all looks so welcoming and well tended because of the work that Lois does.

WOW! WOW ! and WOW! for the gift of $4,000.00 to the general NYCC budget from the Women's Fellowship group. This gift will help so much as our church works it way, financially, through Covid related issues, increased expenses for utilities, and low "in person"  church attendance due to "you know what).  The good news around this is, folks are keeping their promises and faithfully sending in their pledges. We have much for which to be thankful!
Continuing Meetings and Events
June 16 – Council at 6:30 pm – Via Zoom
https://us02web.zoom.us/j/81321017944?pwd=QzkwRll0ajhuV3FXVTBPYjJJU1RJQT09

Choir will be off for the summer after this coming Sunday, June 19.

Tuesday Gals on Tuesdays at 10:00 am in person in Fellowship Hall

Men's Club meets on the third Saturday of the month at 7:30 am at Toddy Brook

Pet Place Pantry is open on the second Saturday of each month from 9:00-10:00 am.
Pastoral Care Requests
For prayer requests, pastoral care or if you or someone you know is struggling in our community please contact Pastor Nancy at nyccrevnancy@gmail.com
Please keep the following people
in your prayers ~
Marion Goff  
Sandra Golonka 
Vince Golonka
Dot Hayward Blanche Mays
Cindy & Bill Tompson 
Community Food Pantry Donations. 
The first Sunday of the month has been designated as Food Pantry Collection Sunday.  We will be focusing on non food items.  Current pantry needs include:
 
Paper towels                     Laundry Detergent
Toilet Paper                       Dish Soap
Tissues                              Diapers
Deodorant                         Pull-ups
Shampoo                           Baby Wipes
Conditioner                        Feminine Hygiene Products

Please add your donation to the grocery cart in the Gathering Space. You can donate to the cart at any time.
Message from the Cumberland Association 
Did you know there are more than 32,000 mothers in America- many from conservative,  Christian backgrounds -who fully accept their LGBTQ+ children?Spread across the country but connected through private Facebook groups, they call themselves "mama bears" because while their love is warm and fuzzy, they fight ferociously to make the world kinder and safer for all LGBTQ+ people. Although some may have grown up as fundamentalist, evangelical Christians, mama bears are willing to risk losing friends, family, and faith communities to keep their offspring safe—even if it challenges their belief systems and rips their worlds apart.
MAMA BEARS is an intimate, thought-provoking exploration of the journeys taken by Sara Cunningham and Kimberly Shappley, two "mama bears" —whose profound love for their LGBTQ children has turned them into fierce advocates for the entire queer community — and Tammi Terrell Morris, a young African American lesbian whose struggle for self-acceptance perfectly exemplifies why the mama bears are so vitally important.
Williston-Immanuel United Church will be screening this award winning film next Friday, June 17 at 7pm. Admission is FREE! 156 High Street, Portland. Enter the church from Deering Street. The film will be shown on PBS in 2023.
Pilgrim Lodge
Pilgrim Lodge is Maine's UCC camp and we would love to see you this season! We have programming for children of all ages, adults, and families. Our programming ranges from Camp Pride to Hogwarts to Adult Chill to Grandparents and Grandchildren to Expedition Everyone to everything in-between. We absolutely love welcoming new folks, especially you! To learn more, please visit: https://www.pilgrimlodge.org/." We also encourage churches to use the 2019 promo video (https://www.youtube.com/watch?v=PaVUdiAn700&t=176s) to get folks excited about this upcoming season.
Access worship directly on our YouTube channel (subscribe to our channel while you are there) at youtube.com/c/nyccucc