North Yarmouth Congregational Church, UCC3 Gray Road, North Yarmouth, ME 04097
207-829-3644

November 24, 2021


MASKS REQUIRED
Following CDC and our own guidelines at NYCC masks are again required to be worn in the church building regardless of your vaccination status.  Please keep them on for the entire time that you are in the building.  We are now holding worship service in the sanctuary with social distancing guidelines in place.  Thank you.

Join us for Worship! We are now worshiping in-person and online on Sunday at 9:30 am. We are now meeting in the sanctuary, and are still following CDC guidelines requiring you to be masked and socially distanced.  For those who wish to join us online via livestream please connect with us on YouTube at youtube.com/c/nyccucc.   If you would like to see the Sunday Bulletin that can be found on our website at http://nyccucc.com

From the Office
The office will be closed from 11/24-25 for the Thanksgiving Holiday.  Lyn will also be taking a vacation day on Monday, November 29.  The office will re-open on Tuesday, November 30.


 
CHEESE    CHEESE    CHEESE   CHEESE !
We have an unopened wheel of delicious Cabot cheese left over from the Holiday Church Fair. These wheels weigh about 35 pounds so you can see that there is a LOT of cheese available for some nibbling, cooking, or what ever you do with cheese. On Sunday Dec.12th, after church, packages of this cheese will be up for sale at a very reasonable price. Let your friends know of this opportunity. All proceeds will go to the Women's Fellowship. This was their gig.

News from our Vice-Moderator
As we are closing in on the end of the year, I have been expecting folks to start letting it be known that they would like to take a break from the committee/board positions they have held for the last few years. And, yes, they are letting me know this. It's my job as Vice Moderator to fill these positions which is becoming more and more difficult every year.   Many held on longer than they needed to because of the awkwardness around the pandemic. AND we can't thank them enough. When considering this lack of interest (or just needing or wanting a change)  in serving and the fact that we are quite out of compliance with our incredibly outdated by-laws,  I was over the moon, when, from the pulpit, I heard we as a church might be looking into reorganizing the inner workings of our church. Before the pandemic there were discussions and a few new ideas were tried and they are working really really well so far. But folks are uneasy some times with change. Some simply don't want change and will say, "but this is the way we have always done it,"  or some are fearful of losing control. These are not feelings or reactions that will move NYCC in a refreshing direction. 

I have had a couple of "intense" conversations regarding changing anything, even some ominous "watch what you change" warnings. However, I am not deterred because I believe there is a more efficient organizational model that will take the pressure off having to fill so many slots on the various committees and boards. I would like to hear folks say something like "when there is a discussion on the by-laws I'd like to be in on that."  Believe me you would be more than welcome.

I have, in my mind, likened what we are proposing to improving the inner working of a timepiece, you know, watch, clock…you get the idea. It will still tell you the time, but might be a more functional timepiece.  Our church will still be all that we want it to be, meeting the spiritual needs of those who seek, and helping folks who are in need. 

Efficient and effective……..could these words describe the inner workings of NYCC? 

Jeanne Chadbourne .   Vice ModeratorTHANK YOU!
 The Tuesday Gals/WF had a very successful fair last Saturday, thanks to many folks who helped out in many ways.

So for those of you who worked at the tables, donated baked goods, helped carrying stuff and setting up and taking down tables, made items during the year, and supported the sale by buying our wonderful things, a very sincere thank you! See you next year!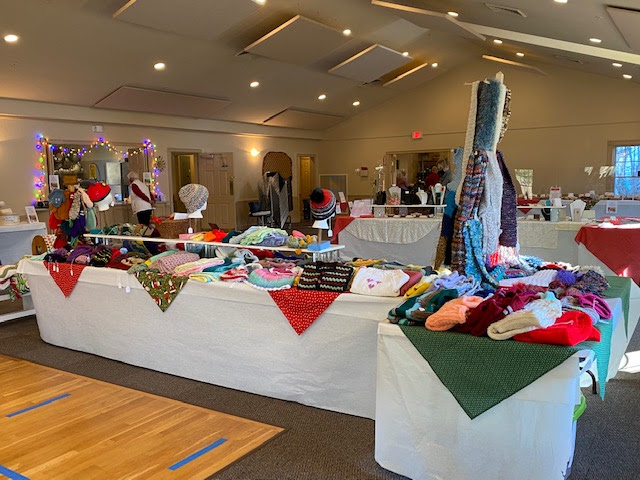 Pastoral Care Requests
For prayer requests, pastoral care or if you or someone you know is struggling in our community please contact Pastor Nancy at nyccrevnancy@gmail.com

Please keep the following people
in your prayers ~Julie Beggs
Marion Goff  
Sandra Golonka 
Vince Golonka
Dot Hayward 
Holly HurdKathy Mathews
Blanche Mays
Lin Tompson Murphy
Caroline RoseCindy Tompson 

Community Food Pantry
The first Sunday of the month has been designated as Food Pantry Collection Sunday.  We will be focusing on non food items.  Current pantry needs include:
 
Paper towels                     Laundry Detergent
Toilet Paper                       Dish Soap
Tissues                              Diapers
Deodorant                         Pull-ups
Shampoo                           Baby Wipes
Conditioner                        Feminine Hygien Products

Please add your donation to the grocery cart in the Gathering Space. You can donate to the cart at any time.

Grace Street Ministry
Calling all gloves!!!!!! you all have been unbelievably generous this fall as always. Now I am hoping that we can become the 'glove church'.  We are in desperate need of warm gloves for men and women – both knitted and other.  I have found some at Job Lots that are not too expensive in the past.  Maybe you have another source.  Thank you in advance – I would love to be able to share with both Pastor Jeff and Pastor Karen.  Thank you, Pastor Nancy

 Access worship directly on our YouTube channel (subscribe to our channel while you are there) at youtube.com/c/nyccucc